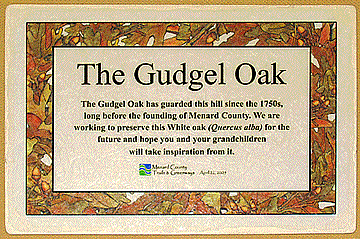 An artist from Chicago and a local master stonemason teamed up to provide this commemorative plaque and install it on a donated 1,700-pound granite boulder.

Click an article below to see larger
STATE JOURNAL-REGISTER articles about saving The Gudgel Oak Tree
The Gudgel Oak
is an historic white oak (Quercus alba) that overhangs Gudgel Road, a few miles from Starhill Forest Arboretum
After recruiting donations from caring people all around the country, we began working to stabilize the tree in April 2005 — a local certified arborist did the work at cost as his donation because the tree is located on public right-of-way.

Jeff Brown (left), Lana Gits (second), and Manfred Koriath (right) helped Guy Sternberg obtain and install the boulder and plaque commemorating saving The Gudgel Oak
Guy Sternberg is a landscape architect, arborist, tree consultant, writer, lecturer, and photographer from Illinois. He has propagated and grown hundreds of species of trees, both native and non-native, and maintains his own research arboretum, Starhill Forest, with his wife, Edie. He was the first president of the International Oak Society and is a life member of the International Dendrology Society, International Society of Arboriculture, and American Forests.
STARHILL FOREST ARBORETUM
We welcome your scheduled visit E-mail your hosts Guy and Edie Sternberg
We offer lectures about oaks, historic trees, native trees, and other
tree-related topics, available in any English-speaking country
and tailored for any audience level.
Please contact us for more information.
© 2009 Starhill Forest ArboretumUnauthorized reproduction of any material on this website is prohibited