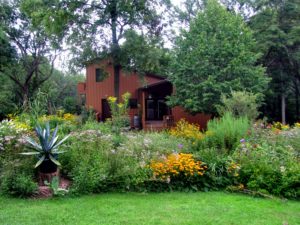 The Arboretum is both a private residence and a living museum, different from a park or recreation area. At this time, we do not have regular visiting hours, however scheduled visits, tours, and other uses of the Arboretum are welcomed! Simply contact us to make arrangements by calling 217-632-3685 or contact us via email. We offer lectures and guided tours on our site about oaks, historic trees, native trees, and other tree-related topics, and we bring our presentations to any English-speaking country, tailored for any audience level, from Scout troops working on their natural history merit badges to experienced horticulturalists, botanists, and plant collectors.
Starhill is well-known for our diverse collection, which includes a number of fragile, rare, and endangered plants. We encourage guests to make use of our collections and the grounds in novel ways while keeping in mind that the protection of the plants is of utmost importance.
The field lab is a great venue for retreats, meetings, and classes of all sorts. Wireless internet access, a projector, screen, white board, kitchenette, restroom, tables and chairs, and more are available to accommodate your needs.
Restrooms are available in the Field Lab, and the building is wheelchair accessible. Tours by motorized vehicles are available to facilitate access to the Arboretum's grounds.
Friendly, leashed dogs are welcome.
Seed and leaf collection is permissible, but we ask that you first seek approval and instruction from staff.
Admission is free, but donations are appreciated!