Starhill Forest Arboretum has been offering two to four paid summer internships since 2005. This opportunity is open to college students of all majors with interests in the natural world, particularly botany and horticulture.
Summer interns work three days per week for approximately 14 weeks, completing 400 hours. Through the course of the summer, students will: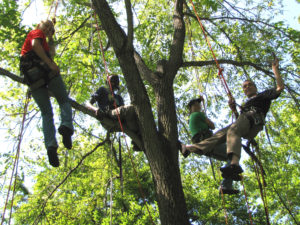 Learn about tree biology and identification

Plant new trees in a world-class collection

Maintain the nursery

Water, prune, weed, and care for a wide variety of plants

Identify and manage pests

Gain experience with the arboretum's GIS mapping system

Collaborate on current research and special projects

Identify and manage invasive species

Operate and maintain hand tools, power tools, and small equipment

Assist with tree removals

Complete small construction projects

Visit local natural areas and historic sites with links to the arboretum's miss

ion

Experience the natural world first hand!
To apply for consideration as an intern at Starhill Forest Arboretum, submit a cover letter and resumé (or curriculum vitae) as one PDF file by February 14th, 2020. Illinois College students should submit their application via the CareerLINK website and contact Career Services for more information.
Additionally, internships and research projects for college credit can be arranged at anytime of the year with the approval of your faculty advisor. Contact us to discuss potential opportunities.